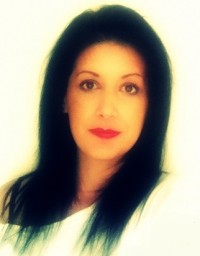 Founder of Canine Angel and Natural Fulvic Vitality, Nikki Brown, first discovered the unique healing properties of fulvic acid when she was 35 years old.
At the time Nikki was suffering from the very embarrassing and painful condition of adult acne after coming off the hormone contraceptive injection, which she had been on for several years.
By coming off the contraceptive injection, her system went into turmoil and couldn't process the toxins efficiently which resulted in her developing acne all over her face and back.
Nikki had already studied about the importance of good nutrition in her early 20's, when she was diagnosed with cervical cancer and found that by switching to a raw natural diet, she beat this deadly disease.
For two years, Nikki tried everything from natural diets, creams, potions and natural remedies to cure her acne problem but found nothing was working. She became severely depressed with her ugly and painful condition and it had a detrimental effect on her work and personal relationships.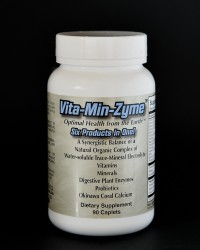 On searching for the solution to this problem, she discovered the human fulvic acid, six in one supplement, Vita-Min-Zyme and was immediately excited about the research she was uncovering on how it was helping with all kinds of skin conditions, so she ordered herself three months supply to start her off in her healing journey.
After just three months of taking the supplement daily, her acne condition improved so much that NO new lumps or bumps were appearing on her face or body and after a period of 9 months of taking the supplement daily,  she found that it also healed the scarring the acne had left behind.
CLICK HERE FOR MORE DETAILS ABOUT VITA-MIN-ZYME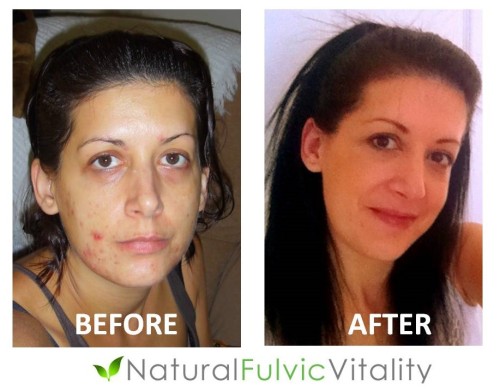 Not only did the acne completely disappear and never return again, Nikki found a whole new lease of life and vitality which enabled her to make changes to her life and her career.
In Aug 2008, Nikki left her full time job as a National Account Manager to fulfil her life-long dream of setting up her own Natural Health & Behaviour Practitioner business which she named Canine Angel.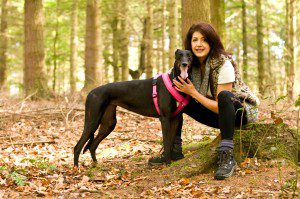 At the same time, Nikki had just adopted an ex racing greyhound called Annie, who came with severe health and behaviour problems and promptly introduced a raw meaty bones diet supplemented with the Natural Pet Vitality which contains, fulvic acid, probiotics and digestive enzymes.
The results were nothing short of a miracle as she witnessed the incredible healing of her own dog.
Encouraged by the results she saw in both her own and her dog's health, Nikki started to present the fulvic solution to her clients and they reported back huge changes and benefits when they added the fulvic products to both their own and their pet's daily diet regime.
Due to Nikki's fulvic acid supplier retiring, she was offered the opportunity to continue where he left off, so she set up Natural Fulvic Vitality and rebranded the unique formulas for the UK, European and Worldwide markets.
Nikki is now providing clients all over the world with the Vita-Min-Zyme supplement along with the Natural Pet Vitality range. She is also very excited about soon being able to introduce new and totally environmentally friendly garden and lawn products to the range, so she can actually offer completely organic and safe garden products which WILL NOT HARM humans or wildlife.
Nikki works alongside some very talented people who have helped her to build the website and launch the new products into the market and is continuing to work at building the company profile and educating the public about the wonderful health benefits of fulvic acid.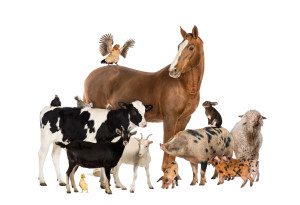 With over 15 years of experience working within the small animal market, Nikki's future plans and goals are to introduce the special formulas to the larger animals such as Equine and farm animals who are also suffering with the same kind of health issues as the smaller animals are.
Natural Fulvic Vitality was also setup to enable more education to be available for the human health and fitness market so more people can understand why this is the one supplement they need to be taking to ensure they both prevent and treat their health and behavioural problems.
As a company, we also understand how intoxicated and undernourished our soils and plants are, so we have plans to introduce a totally organic and safe liquid fulvic acid product to our product range in the near future to ensure the plants and soils benefit too.
Our company ethics are simple; We follow the laws of nature and it is our mission to help our mother earth heal from the devastation that our toxic substances has caused.
Fulvic Acid is the solution and this is a huge task that no one fulvic acid company can cover on its own. We are looking to work with others who can provide the tools, resources and skills we need, to ensure a little fulvic magic is sprinkled back into the earth and all its inhabitants.
If you would like to get involved in The Fulvic Solution and can offer us help then we would love to hear from you.
Please contact us for more information here.