Such a wonderful day was had at this years second Annual Fun Dog Show at The Old Moat House in Epsom!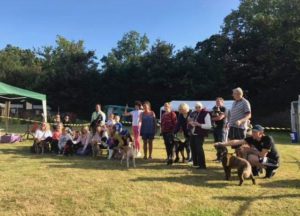 This is the second year running I was asked to be the judge for the dog show and I jumped at the chance because I enjoy it so much!
Here's just a small line up of this years entries.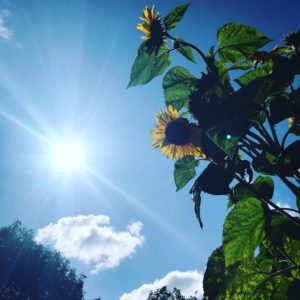 We were blessed with Sunflowers and glorious sunshine all day, which always helps a great day turn into a fantastic one!
We all give up our day for a special charity called The Richmond Fellowship which was set up by the Old Moat house to help folk with mental challenges get back into employment.
Altogether we raised £350 on the day so well done to everyone who came and took part! Everyone made the day special!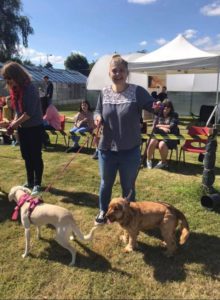 Personally, I love judging the dog show so much because I get to personally meet and greet all the wonderful fur angels who come along to take part.
The dogs love the show as much as the humans do and they are all eager to show us what they can do!!
I must admit I was really impressed by the quickness of the dogs sitting on command in the "Musical Sit" Category!
Other category's included "Best Mismatched" which went to the Great Dane and Little Toy Poodle who are best of friends even though their size is completely different!
That was probably one of the easiest categories to judge but the other categories are quite a challenge because in my eyes ALL the dogs are winners!!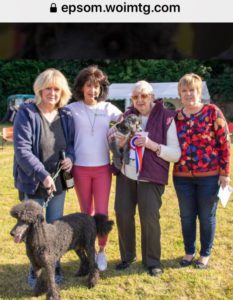 Still saying that, some dogs do stand out among the crowd not so much about their looks but what they do for for their special contribution to the community.
And this is the reason why FRANKI  the poodle, won BEST in SHOW as he is a senior therapy dog who helps folk with Dementia. He helps them to remember the precious memories of tier own dogs in their lifetime and that to me is priceless and why we felt Frankie should win the BEST IN SHOW.
Thank-You to our guest Judge Bernie Muir From Epsom Council for helping me with choosing our best in show winners.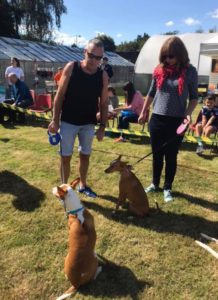 I wish I could give all the other dogs a mention because they are all special in their own way and they were all very well behaved on the day.
These two dogs won Best Rescue because of the work their humans do at rescuing dogs from a poor life on the streets to finding great homes here in the UK.
They represent the great work these charities do in saving dogs lives all over the world.
Here is the full line up of all our category winners:

Photo Credit Paul Taylor from WOIMTG
And please see below the Video Footage Clips he caught on the day in this wonderful special video memento:
My special thanks go out to the following people who gave up their free time to organise the day and ensure it ran smoothly.
Joy Holm Event organiser
Paul Taylor video footage
Paul – Commentator
Vic, Hollie and Gordon -volunteers helpers
Bernie Muir – Epsom Councillor and guest Judge.
I will be there judging again next year so put September date in your diary and bring your dogs along!! Who will be best in show winner next year????
Nikki Brown
Canine Angel